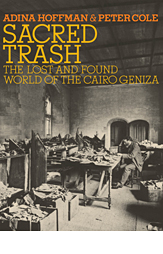 A new book has just been published called Sacred Trash; The Lost and Found World of the Cairo Geniza.
According to Wikipedia, a genizah is the store-room or depository in a Jewish synagogue (or cemetery), usually specifically for worn-out Hebrew-language books and papers on religious topics that were stored there before they could receive a proper cemetery burial, it being forbidden to throw away writings containing the name of God (even personal letters and legal contracts could open with an invocation of God). Most religious schools and synagogues have a Geniza, where students and members can put sheets of paper or documents bearing God's name. From time to time, the contents are taken out and buried in a designated spot in a Jewish cemetery. When a lost Geniza is discovered, it can be a great treasure trove of historically-significant documents related to Jewish law and life of a given time period.
The word genizah come from the Hebrew root g-n-z (Gimmel-Nun-Zain), which means hiding, and originally meant "to hide" or "to put away". Later, it became a noun for a place where one put things, and is perhaps best translated as "archive" or "repository".
The cover of the book shows Solomon Schecter studying the documents. His greatest academic fame came from his excavation in 1896 of the papers of the Cairo Geniza, an extraordinary collection of over 100,000 pages of rare Hebrew religious manuscripts and medieval Jewish texts that were preserved at an Egyptian synagogue. The find revolutionized the study of Medieval Judaism. Schechter was alerted to the existence of the Geniza's papers in May 1896 by two Scottish sisters, Mrs. Lewis and Mrs. Gibson, who showed him some leaves from the Geniza that contained the Hebrew text of Sirach, which had for centuries only been known in Greek and Latin translation.
Schechter's name is synonymous with the findings of the Cairo Geniza. He placed the Jewish Theological Seminary of America (JTSA) on an institutional footing strong enough to endure for over a century. He became identified as the foremost personality of Conservative Judaism and is regarded as its founder. A network of Conservative Jewish day schools is named in his honor.